Brentwood Gardens - LOCATION
Brentwood Gardens is located at Mabalacat, Pampanga.
Brentwood Gardens by Masaito Homes is located in the city of Mabalacat in Pampanga. It is located in Central Luzon, or north of Metro Manila. It is the third major city in Pampanga, after San Fernando and Angeles City. As of the 2010 census, there are more than 215,000 people living in Mabalacat.
The Clark Freeport Zone is located mostly within Mabalacat (the rest belongs to Angeles City). Hence, this is a thriving city with lots of up and coming opportunities for those who live in the city. Its proximity to the Clark International Airport is another one of the reasons that aided to the growth of the city's economic and urban landscape. You will find plenty of hotels, golf courses, resorts, and casinos near the airport and in Mabalacat.
Brentwood Gardens is located along McArthur Highway in Mabalacat, Pampanga. It is located near major highways and is accessible to public transport systems. Hence, traveling to and from this city is fairly easy.
If you are traveling from Manila, you can take the North Luzon Expressway. You need to exit the Dau Toll Plaza and turn right to McArthur Highway. From the highway, you need to turn right to Mawaque Road. From there, drive straight until you reach the Brentwood Gardens. If you are traveling from Tarlac, you must travel along Sta. Ines Road. Once you make it to the municipality of Mabalacat, turn left to McArthur Highway and then straight ahead to Mawaque Road. It should be easy to find this housing village from there.
In addition to the accessibility of the location for Brentwood Gardens, there are also several commercial establishments and services nearby. Hence, you do not have to go to Metro Manila in order to satisfy your lifestyle needs.
There are several schools and educational institutions of all levels in Mabalacat. For families looking for private schools, there are plenty of them to choose from. Among the most notable schools in the city are Don Bosco Academy Pampanga, Montessori School of St. Nicolas, and Divine Grace Academy.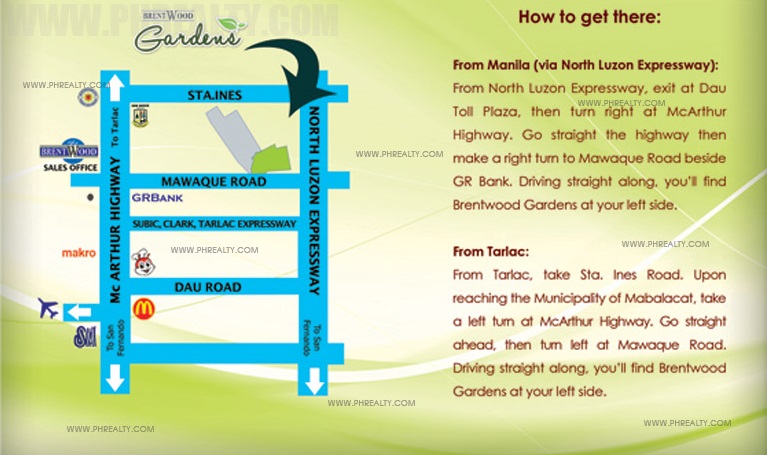 If you need to do some shopping or grocery, you won't have to travel far from Brentwood Gardens to find a nearby shop or mall. Mabalacat has several malls including Marquee Mall, City Mall, Saver's Mall, S&R Membership Shopping, SM City Clark, and Clark Air Mall. If you are craving and need to go somewhere to satisfy your cravings, you can check out any of these restaurants in Mabalacat: My Lola Nor's Meryendahan, Side Griller Bar, Grill Seoul Korean BBQ, and Koko Buri.
If you are moving into Brentwood Gardens with your family, especially if you have children, it is important to find a nearby hospital or medical facility. Having access to a hospital is going to give you peace of mind that your family's health care needs will be addressed. Fortunately, there are plenty of hospitals that can serve you and your family in Mabalacat, Pampanga: The Medical City Clark, AUF Medical Center, and Our Lady of Mt. Carmel Medical Center, to name a few.